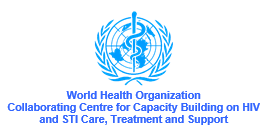 On March 31st 2006 the Centre was designated as a World Health Organization (WHO) Collaborating Centre for Capacity Building on HIV and STI Care, Treatment and Support.
GUIDING PRINCIPLES AND VALUES
Every staff member and volunteer of The Albion Centre shares these values and principles of operation.
Collaboration
We are dedicated to working in partnership with each other, our clients, and other stakeholders. Through consultation, we endeavour to build upon our strengths to realise our vision of better health for all.
Diversity
We are committed to working within an ethical framework that values diversity and human rights. Our services are underpinned by a client-centred approach that seeks to provide accessible services to those at risk and in need, and ensures inclusiveness, equity and acceptance.
Innovation
We aspire to create and develop new ideas that will enable the delivery of enhanced services to constantly improve our efficiency and effectiveness. We embrace and encourage creativity in order to meet our best possible potential.
Integrity
We take responsibility for providing services with the utmost respect, care, compassion, and generosity. We hold core principles of confidentiality, honesty and trust within a non-judgemental approach.
Leadership
We are leaders in our field, committed to excellence and the highest professional standards. Our services are based on a foundation of evidence-informed practice, diligence and dedication.
These values are encompassed by and reflect those espoused by the South Eastern Sydney Local Health District – Teamwork, Honesty, Respect, Excellence, Equity, Caring, Commitment and Courage.
DIVERSITY IN HEALTH SERVICES
The Albion Centre (Albion) provides health services to people from culturally and linguistically diverse (CALD) backgrounds. We have a long history of working with new and potential immigrants, as well as those with or seeking refugee status.
By working in partnership with organisations such as the Multicultural HIV and Hepatitis Service, and Health Language Services, we provide a high level of service to people of all backgrounds. We are also able to provide assistance and facilitate treatment for those who are not currently Medicare eligible. All services can be provided with a professional interpreter present.
Albion has many years of experience working with people from Aboriginal and Torres Strait Islander backgrounds.
We acknowledge that our premises stand on the land of the Gadigal people of the Eora nation.
WHO COLLABORATING CENTRE
The Albion Centre has a longstanding history of cooperation with the World Health Organization (WHO). The WHO, within the Joint United Nations Programme on HIV/AIDS (UNAIDS), is responsible for providing technical support for the health sector response to HIV/AIDS. To assist WHO in this role, various activities have been completed by the International Health Services of The Albion Centre including technical assistance consultancies, training manuals, guidelines and normative documents. These activities have been conducted in areas including, HIV testing and counselling, HIV care and antiretroviral therapy, home and community-based care, infection control and health care worker safety, men who have sex with men, and day care centre operations and volunteers.
In addition, the Centre hosts WHO Fellowships for health workers in the Region.
In recognition of this work and the Centre's expertise, WHO designated The Albion Centre as a 'WHO Collaborating Centre for Capacity Building and Health Care Worker Training in HIV/AIDS Care, Treatment and Support' in March 2006 and redesignated for a second term in 2010.
In 2014 Albion was again designated as a WHO CC Globally, Albion is one of only eight Collaborating Centres with a specific focus on the HIV epidemic. The activities undertaken by the Centre relate specifically to the agreed terms of reference.
For a detailed listing of WHO current and past activities please follow this link.